Facebook App Appearance
1. Log into your MyGuestlist account
2. Click on Social
3. Click on Facebook Applications

4. Click on 'Appearance' next to the Facebook Application you'd like to style
5. Click 'Update Style'
6. Select the Theme you'd like for your app. The selected theme will have a green flow around it.
7. Select 'Customize Theme' to add images and change the colours
8. To change the Page Background colour, click inside the box and select.
9. The standard background image size is 810px by 810px. Click on Upload image and upload the image you'd like to use.
10. The form background colour is the box that surrounds your text. For the transparent theme this means it will be slightly see-through. Click inside the box to change the colour.
11. The Application height allows you to change how long your Facebook app is. Try to make sure it's either auto or larger than 810px, otherwise the page will be rather small.
Click on the block and drag it to change the height.
12. The box at the bottom of the screen shows a preview of what your app looks like
(Below shows preview based on options in screenshots above)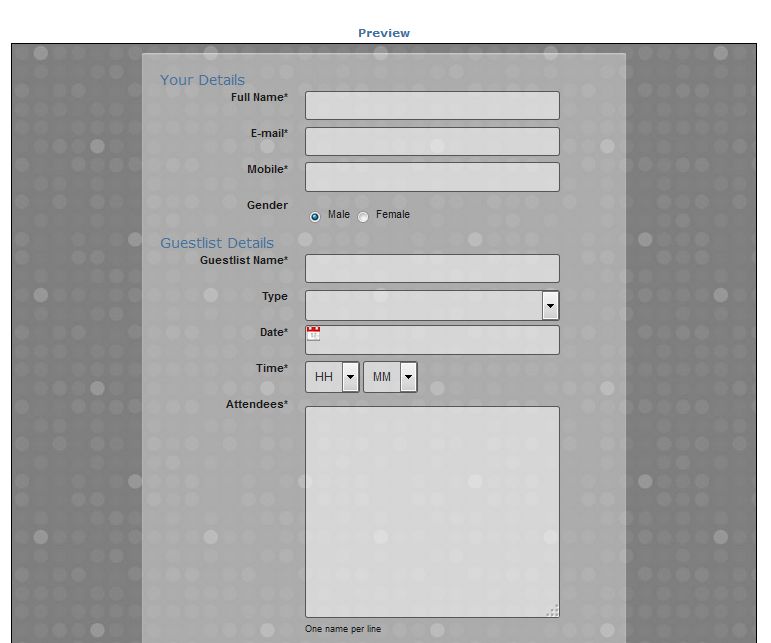 13. Make sure you click 'Save and Close' to save your changes.